Valentine's Day is a faithful holiday. It always happens on the same day, February 14th, unlike Easter that likes to play mind games. So, for this reason alone I like Valentine's Day already. However, millennial girls are starting to celebrate Galentines Day instead of caring about spending Valentine's Day traditionally. It's a mixture of some horrible dates and some girl power propaganda. Here are my thoughts on how card-stacking has decreased the need for Valentine's Day cards.
What is card-stacking?
Card-stacking puts an emphasis on one perspective and excludes details about the opposing perspective. So, how does this apply to Valentine's Day? Simple. Instagram posts about Galentines day are so much cuter than the picture of a couple scrunched in a restaurant booth. Couples celebrating Valentine's often don't post on social media during the event because they're enjoying each other's presence, and this is also often the reason they don't post following the date– no phones, no pictures. Girls on the other hand are all about snapping the perfect Instagram story to show off the golden helium XOXO balloons.
Your first Valentine's Day card
Your first experience with Valentine's Day cards is more than likely from your Elementary school class. Holographic, more than likely incorporating an animal, and awesome. Then somewhere along the line, things got complicated and words meant more. There's no more giving a boy a card that says "you're the purr-fect friend" or he'll think you're obsessed with him.
Galentines
Who needs a guy when you've got your gals? This is essentially the mentality behind the girl power party that is Galentines. Before I met my fiancé, I was the ring-leader behind this mentality. I convinced my friends that we were happiest alone, and more fun without guys around. Especially on a day as cheesy as Valentine's Day.
I knew that I had adopted the term from somewhere, but I had no clue where that was. So, during my lengthy research of simply typing in "Galentines Day" I found that it is an episode of Parks and Recreation from 2010. In the episode, Leslie Knope celebrates her favorite holiday by spending time with her gal pals, similar to today. However, this was celebrated on the 13th to allow everyone to spend both time with their best gals and special guys.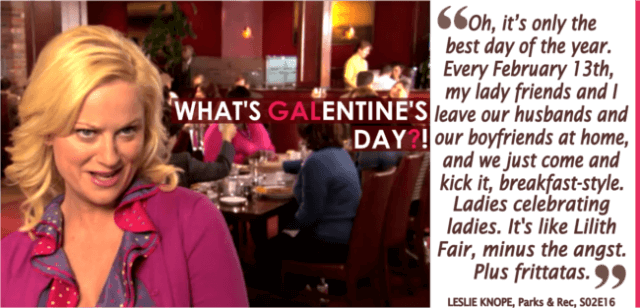 Reality
The reality is that both are great, but one is not better than the other. There are things that I enjoyed about spending the day with my friends, but I also can't imagine spending it with anyone other than my fiancé now. Well, I guess I should say that I can't imagine spending the day without him, because we're spending our Valentine's Day with thousands of people in Auburn Arena while men's basketball conquers Kentucky. Basketball is important to both of us, and it's a nice alternative for me to avoid the cheesy Valentine's Day dates that make me cringe.
Oh, did I mention that my gals will be joining us at the basketball game? I'll take the best of both worlds when I can get it.